Words matter, and written words matter a lot – especially in our working lives. The world has changed. These days, we use written communication more than we've ever done. Everyone's at it. Between us all, we produced half a trillion documents in 2014. And we send and receive more than 205 billion emails every day.


Make a difference

Whether you want to tell someone about something, or ask them to do something, to complain to them or persuade them, you're much more likely to do it in writing than through speaking to them directly.
And if it's influence you seek, your writing skills are critical to your success. One of the best ways to reach a wide audience – to make a real difference with your ideas – is to write them down, so key people can read about them.
What you write might be a simple email or a full-blown proposal, but it's writing all the same.
But there's the problem. With all that writing going on, you need to make yours stand out. It needs to be clear and accurate. And it needs to engage the person or people who read it. And for that, you need to fine-tune what you write. To raise your skills above the average, so that you can cut through the information overload and get your message across.
This course will show you how.
What is Emphasis 360?
Emphasis 360 is a learning system unlike any other. In fact, it may well be unique not just in business-writing training but in the training world full stop. If you've attended one of our live courses, it will cement the skills that you learned, to make them permanent. This is important – even the best courses are pointless if you don't apply the skills that you learn on them. And it's all too easy to slide back into bad habits when you've left the training room and are back at your desk.
But Emphasis 360 also works equally well as a stand-alone programme. So if you can't get to our live training, you can still develop the same superior writing skills. Working together, we'll transform your writing step by step, in practical, manageable, bite-sized lessons. Good writing will become a strong, permanent habit.
Week by week and month by month, it will teach and develop the writing skills you need to communicate in a busy world. You'll become a confident business-writer and highly skilled communicator. And this will happen without taking up hours of study time that you simply don't have.
Weekly, interactive learning sessions
As a member of Emphasis 360, you'll have access to a website dedicated to developing your writing skills. Every month, we're uploading four weeks' worth of fully interactive learning sessions. If you join, you'll be able to access all this content on demand. But we'll also email you every week with a link to that week's lesson, to prompt you to spend just a few moments developing your skills.
Each lesson is brief, yet interactive and engaging. (You can find more details below.) People tell us that the lessons are borderline addictive, and quick to complete. That means you'll be able to develop superior writing skills no matter how busy you are. And because each lesson takes only a few minutes, you'll be able to stick with the course and hone your skills almost without realising. Just imagine how much you'll learn over the course of a year.



Global better-writing resource library
With each new set of lessons, we're adding special support resources to the site. This will build into a resource library that will include best-practice checklists, how-to guides and great-looking templates. Over time, it will become a truly unique resource covering every aspect of written communication in the workplace – from handling complaint letters to pitching for contracts worth millions. Ultimately, we want it to include everything you could ever need to produce excellent business writing, and all in one place.



Dedicated, priority helpdesk
Even with the best training and resources, everyone can stumble when trying to apply new skills. So we want to help you with that, too. Our special business-writing helpdesk works a bit like an IT helpdesk, except that it's staffed by our writing experts (and we speak in plain English). It includes a ticketing system so that you can track your query.
As an Emphasis 360 member, you'll get priority access and more detailed help. Your queries will go straight to the front of the queue, where one of our specialist advisers will be able to help.



The e360 sessions
You'll be able to complete each session in the same time it takes to drink a cup of coffee (or tea, if you prefer). That's because we know how busy you are, and we want to make sure you can fit it in. But it's also because short, regular practice is the best way to build good habits.
The sessions feature entertaining, TV-standard videos, produced in our studio by our own film-maker, Jay Bartlett.
For true learning, of course, just watching is rarely enough: so we'll also get you doing from the beginning. As well as video, you'll find quizzes and interactive exercises that will make the new skills you're learning stick (and be fun, too).
Your Instructor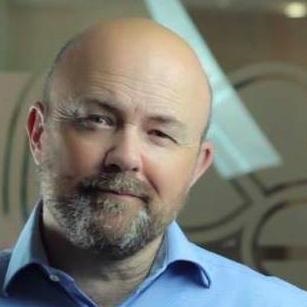 Rob Ashton is the founder of Emphasis, the global writing-skills consultancy, based just over 40 miles south of London, in the UK coastal town of Brighton. He set up Emphasis in 1998, after successful careers in scientific research and magazine and journal editing.
That background is important, as it's why all Emphasis courses use sound scientific principles to teach the written communication secrets of the best editors. He believes good writers are not born but created, and that good writing is actually a technical skill that anyone can learn. Often the techniques taught by Rob and the organisation he founded are little-known outside the publishing world (and often even within it). So by learning and applying them – as this course will teach you – you'll be certain to raise the level of your writing to way above the norm.
Emphasis has changed a little since Rob set it up in a tiny, rented office. It now has a large team of specialist consultants and has trained over 30,000 people in 3,000 organisations – from every sector and industry. Clients include household names (M&S, Warner Brothers, Google, HSBC), the public sector (the Environment Agency, Natural England, the Home Office), academic institutions (London Business School, Institute of Development Studies) and major professional-services firms (EY, DLA Piper, Hogan Lovells).
Rob is now a respected thought leader in business communication, having been featured in the Guardian, The Telegraph and The London Times, among many other publications. But he's still as passionate as ever about freeing people from the hang-ups and poor advice that hold them back. In leading this course, he's going back to his roots as an editor and trainer. And he couldn't be happier, as he likes nothing more than to see someone thrive in their career once they start communicating more effectively.
Course Curriculum
Introduction
Available in days
days after you enroll
Week 1: A formula for writing any email (even a tricky one)
Available in days
days after you enroll
Week 2: How to catch any error (before you press Send)
Available in days
days after you enroll
Frequently Asked Questions
Who is this course for?
If you write anything at work – letters, reports, emails, bids or anything else – this course is for you. In the past 17 years, we've worked with organisations in every sector and industry. So you'll only find the most practical, proven techniques inside.
We've designed this course to help people at every level of writing. If you're early on in your career (or even haven't started yet), Emphasis 360 is a great way to begin on firm foundations. And if you're more experienced, you'll learn how to polish existing skills and learn new ones.
When does the course start and finish?
The course starts when you enrol, and we'll be adding more content all the time – but you can decide when it finishes. The course is self-paced: we recommend doing one lesson a week, as regular practice is the best way to learn. But we know everyone's different, so it's up to you. If you'd like to do a few lessons in a row, go for it!
How long do I have access to the course?
After enrolling, you have unlimited access to this course for as long as your subscription is valid. As long as you are subscribed, you can access it any time – across any and all devices you own.
What if I am unhappy with the course?
We very much hope that you'll both enjoy Emphasis 360 and find that using it makes a real difference in your writing. But if you are unsatisfied with your results, just get in touch within the first 30 days of your subscription and we'll give you a full refund.
What makes this course unique
This course focuses on quality and on achievable goals. We want to make your progress almost effortless. So many of the lessons you'll work through include entertaining, TV-quality video (made by our in-house film-maker, Jay Bartlett – see below). The course will give you priority access to a special helpdesk. And it's fully interactive. (This isn't just a series of 'talking heads' or – worse – faceless screen recordings.) There really isn't anything comparable on the market today.
We've designed it specifically to make a real difference to your writing. At Emphasis, we're realists: we know real life gets in the way of even the best of intentions. And we know that, faced with an enormous amount of learning resources, it can be hard to know where to begin.
That's why we'll guide you through the learning process every step of the way with our weekly emails. And it's why we've deliberately made each lesson both compelling and short. Once you start, finishing will be easy – and we're confident you'll be able to do it in as little time as it takes to drink a cup of coffee.
This unique approach will give you the best possible chance of really improving your writing and unlocking the possibilities that brings.


Meet the team
Emphasis 360 isn't the work of one person – it's the collected effort of a dedicated team of writing specialists. We're working tirelessly every single week to create interactive, engaging content that will transform your writing. (We're probably working on the next month's content while you're reading this, in fact.)
We love this subject. We believe that it deserves so much better than tired rehashings of accepted ideas or dull screen recordings that are a chore to complete. That's why we're combining our talents to create the most effective and engaging learning experience possible.
Jacob Funnell
Jacob is a true word nerd. He's driven to understand how language works and how to use it to get real results. He's the man behind our hugely popular Improve your grammar email course, which has so far helped more than 1,500 professionals from across the globe. A relentless chaser of evidence and a confirmed sceptic, he's passionate about making sure Emphasis 360 delivers real results for our users.
Catie Holdridge
Catie is a wordsmith of the highest order. An English graduate, she has written countless articles for the Emphasis blog on everything from the active voice to how to write a letter to the Queen. She is continually hunting out the clearest expression and the most effective phrase. And she's dedicated to scripting and structuring all course content to make it as engaging and compelling as possible.
Jay Bartlett
Tired of dull training videos? Jay is too. As a graduate of the famous University of Brighton film school, he uses his creative flair to bring an innovative and memorable approach to every video featured in this course. He's also a stickler for clarity and succinctness – ruthlessly making sure that every second of footage is helping you make lasting changes.


What you'll learn in this course
How to write as a modern professional

The role of writing – and how much we have to do it – has changed enormously in the past twenty years. So too have notions of formality and what constitutes good writing.

You'll learn how to navigate these changes and write documents that communicate your message and enhance your professional reputation.

Grammar and punctuation

The rules of grammar and punctuation are fundamental to all communication. But too much instruction has focused on learning dry rules out of context. Added to this, many explanations of grammar and punctuation are needlessly complicated.

We cut through the complexity in two ways: showing you how you can use any given rule of grammar or punctuation, and explaining everything in plain English.

The psychology of writing

We know that many of the challenges people face when they're writing aren't just about where to use an apostrophe or place a comma.

Many, many of us struggle with how to begin writing, and how to make our writing processes smooth and effective.

Unlike other programmes, we don't neglect these crucial aspects of writing. If you've ever stared at a screen, looking at a blinking cursor, not sure what to do next – you'll find the solutions here.

Reader-centred writing

Writing is, ultimately, a means to an end. What is the end? Whatever you want your reader to do or feel.

We never lose sight of this in the course. It's the key theme that unites everything we teach. It's what makes Emphasis 360 such a practical programme, and why we're confident you'll get the results you need and want.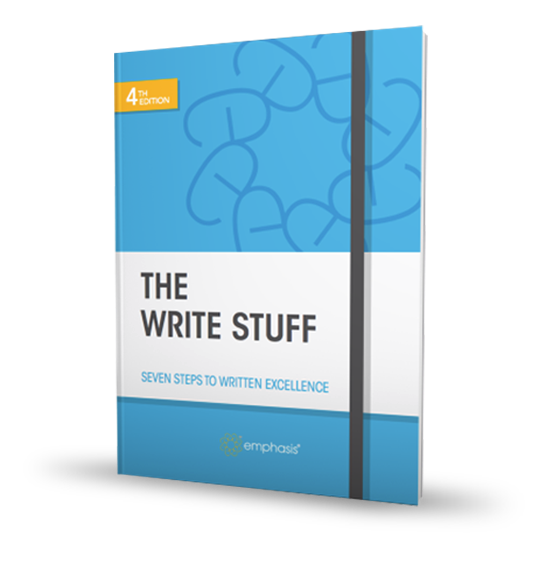 All Emphasis 360 members get a free digital copy of our style guide The Write Stuff – Seven Steps to Written Excellence. If you're on a trial membership, you'll get access to this during your trial period. But it will be yours to keep even if you decide not to continue with your membership. The comprehensive guide (normally priced at £19/$29/€24) is fully indexed and full of solid advice. It covers everything from structuring sentences effectively (page 12) and writing effective email (page 25) through to how use abbreviations (page 48) and even writing for a global audience (page 33). Plus it includes a full list of clichés, jargon and management-speak to avoid, with alternatives you can use. This book alone could enable you to completely overhaul how you write at work and make a real impact with your writing.


What our clients are saying about our courses
'Emphasis is extremely good at raising communication standards to a really high level.'

Simon Rhodes, Ernst & Young

'A very enjoyable and informative course. Lots of practical examples and exercises.'

Kevin Callaghan, BP

'Everyone at Emphasis is helpful and friendly. I use all the tips and techniques I learnt with Emphasis in my day to day work.'

Hazel Bedford, IFAD

'One of the best courses we've run.'

Sue Taylor, BUPA

'The objectives were clear, and the training delivered was very useful and well-presented by the trainer. All the techniques will benefit me.'

Victoria Longdon, E.ON

'Very good course in general. I would recommend it.'

Denis Zuev, Gazprom

We've trained more than 60,000 people since 1998, including from: